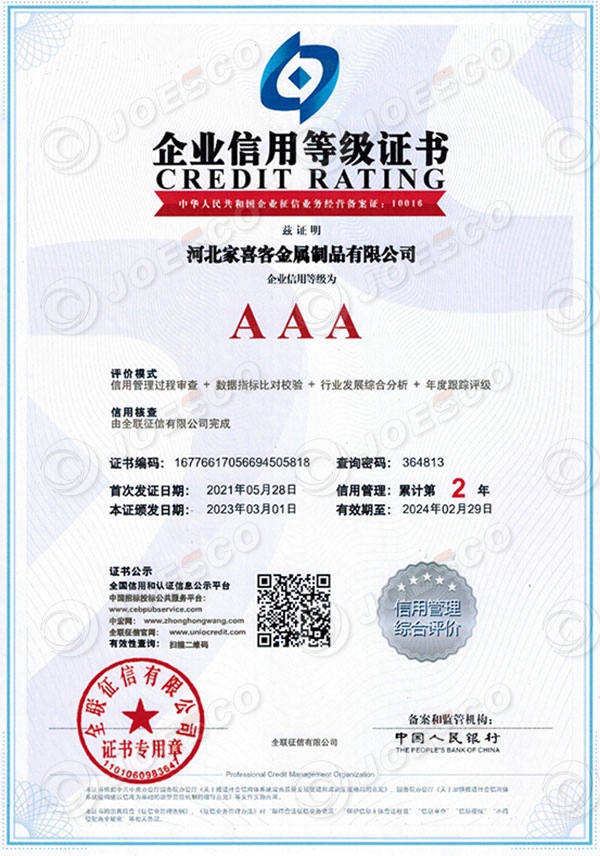 Enterprise credit rating certificate
CREDIT RATING
People's Republic of China enterprise credit investigation business operation record certificate: 10016
This is to certify
Hebei Jiaxike Metal Products Co., Ltd.
The enterprise credit rating is
AAA
evaluation mode
Credit management process review + data index comparison and verification + comprehensive industry development score + annual follow-up rating
credit check
Completed by Quanlian Credit Information Co., Ltd.
Certificate code: 16776617056694505818 Query password: 364813
Date of first issuance of certificate: May 28, 2021 Credit management: accumulative 2nd year
Date of issue of this certificate: March 1, 2023 Valid until February 29, 2024
Certificate publicity
National Credit and Certification Information Publicity Platform
China Bidding Public Service Platform: www.cebpubservice.com
Zhonghong.com: www.zhonghongwang.com
All-Union Credit Official Website: www.uniocredit.com
Validity query: scan the QR code
Quanlian Credit Information Co., Ltd.
Filing and Regulatory Agencies:
The People's Bank of China THE PEOPLE'S BANK OF CHINA
Professional Credit Management Organization
The wooden certificate was approved by the General Office of the Central Committee and the General Office of the State Council's "Opinions on Promoting the Rapid Establishment of High-quality Development of the Accounting and Accounting Credit System and Promoting the Formation of a New Development Pattern", and the General Office of the State Council's "About Accelerating the Construction of the Social Credit System" "Guiding Opinions on a New Credit-Based Supervision Mechanism" and other documents are used in the field.
The issuance of this certificate is in compliance with the "Regulations on the Administration of Social Credit Industry", and the "Administrative Measures for Morality Collection Business" prohibits "obtaining legal credit investigation business qualification", "protecting the legal rights of information subjects", "inquiring information", "information authorization" Infringement of trade secrets" and other related clauses.